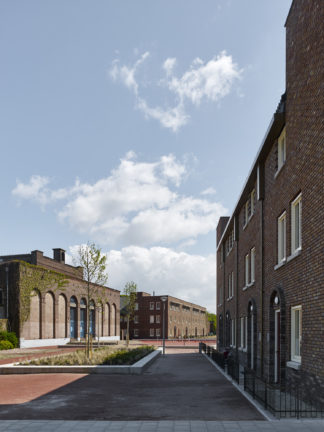 16 January 2021 – Bricks all over… The jury of the Fritz Höger Preis 2020 gave us the Special Mention Award for our project Kloosterbuuren, an urban design for a neighbourhood in The Hague Moerwijk around a former monastery. Developper ERA Contour invented the apt name Kloosterbuuren. All hard surfaces, facades and roofs have been built with clay products.
The Fritz Höger Preis is a German award for projects constructed with clay products. There are four categories. Kloosterbuuren was awarded in the Residential building/apartment complex category. The jury members were: Susanne Wartzeck (BDA), Florian Zierer (Caruso St John Architects), Christoph Ingenhoven (ingenhoven architects), Anja Fröhlich (AFF Architekten) andUlrich Brinkmann (Bauwelt).
Previously, we won the Fritz Höger Preis 2011 for the Lakerlopen project.