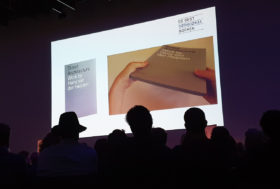 1 October 2019 – The book Street Architecture which our office has published last year has been selected as one of the best designed Dutch book designs of 2018. Last Friday, the exhibition of the 33 awarded book at the Stedelijk Museum Amsterdam, coinciding with the presentation of a bilingual catalogue.
It reads: 'Street Architecture, written by architecture specialist Karin Templin and designed by Haller Brun, is a real architecture book. Minimalist, ordered and disciplined, with utterly stylized a ural drawings, immaculate architectural photography from Stefan Müller, and a surprising approach to the material.'
And: 'The whole thing speaks of so much precision, care and loving attention that the result is far from dull, instead glowing with lover for the job both of the architect and of book designer.'
A total of 295 entries were assessed for their distinctive qualities by a panel of experts looking for outstanding work in such areas as content, design, picture editing, typography, choice of materials, printing and binding. This year's panel of judges consisted of Michaël Snitker (designer), Mijke Wondergem (designer), Eelco van Welie (managing director, NAI010 publishers), Martijn Kicken (consultant at Tielen printers) and Suzanna Héman (assistant curator, Stedelijk Museum Amsterdam).
With many thanks to the printer Rob Stolk, the graphic designers Sonja Haller en Pascal Brun the author Karin Templin and the photographer Stefan Müller for their precision, patience and their talent.
The exhibition The Best Designed Dutch Books 2018 runs until 30 October.