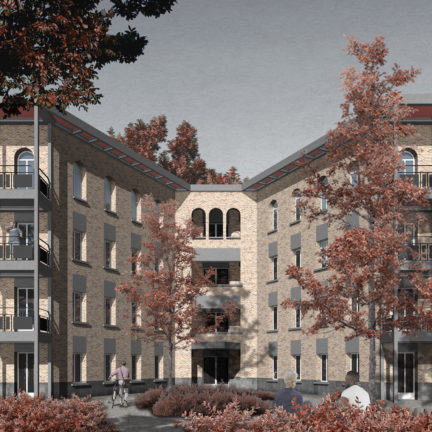 20 October 2020 – Since the Renaissance, the palazzo in cities such as Naples has developed into a sustainable type of housing. That is not for nothing. The originally rural type lends itself well to high-density housing. Is the palazzo also suitable for the urbanisation of post-war suburbs?
We asked ourselves this question when we were asked to make a proposal for the densification of a sloping site in London Ealing. Around two residential towers there is room for new construction. Because of its scale, the complex is out of tune with its surroundings. The context is not easy to interpret. Opposite the towers is a modern supermarket with a large car park. The oldest generation of houses in the area are about 120 years old. They are mostly semi-detached houses in the characteristic bay window architecture of the time. The more recent residential buildings are larger – and coarser.
We proposed to divide the necessary building programme into seven blocks based on the palazzo. The new houses have a simple finish of brickwork, prefabricated concrete and steel fences. They are all vertically articulated. Curiously, the shape of the towers set the precedent for adapting the new houses to the scale of the bay window architecture around the ensemble. On the basis of these rules, each block can be worked out by a different team member.
The two residential towers are connected by a new base that forms a square on which the tower entrances, communal areas for the elderly and small working spaces are located. The base provides a rustica for the towers and thus conceals the underground car park.
Palazzi, square, base, rustic: the repertoire of the Renaissance city offers intriguing solutions for the urbanization of the contemporary suburb.
In collaboration with Smith & Taylor Architects, London, UK