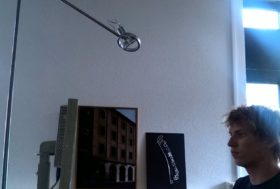 1 July 2014 – As of today my new office is officially in operation. After a preparation period of 3 months there is a studio, a website, a PI insurance, a telephone and all other things an architecture practice needs. My friend Stefan Müller, who also makes all project pictures, gave me a beautiful photo of Padua as a present for my new studio. The photo stands next to an urban model of NW Cambridge which was made by students of the Rotterdam Academy for Building Arts. Sam is at work already.
20 years ago I established biq together with Karel Fibbe and Rick Wessels. With that office I won the Europan-4 competition for young architects, I realised projects, I won prizes, I felt that my designs were appreciated and I noticed that my work got published. We remained sober. Hard work and the pleasure of building were the characteristics of our Rotterdam practice.
Last year I moved to Amsterdam. I got the opportunity to work as a professor in Cambridge for one year. It was time for something new. Hard work and pleasure in building were not sufficient anymore.
With my new office under my own name I am choosing for a personal approach of projects. Building practice has changed. No project is the same anymore. I choose for a compact network office which operates flexibly. Where needed I ally with other professionals. I adjust the project organisation to the task and questions asked. The approach differs, ambitions remain the same.
biq has not been forgotten yet. On behalf of the office I will finish some projects. In addition I work on new projects in the Netherlands and abroad.