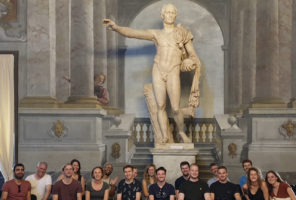 20 April 2020 – Today we present the results of this year's design and research studio at RAvB. As part of the ongoing investigation of the palazzo type, we studied the Roman version of this phenomenon. Together with the students we looked at the vitality of Rome, at the merging of its historic and contemporary domestic culture. The question was why the Roman palazzi perform already that long and what the lessons of their sustainability are. Rome's traditional urban blocks establish a rich collection of variants to the palazzo type. Within that the court is as important as the exterior of the block.
The students provided an analysis with black-and-white isometric and a coloured façade detail of a Roman palazzo. Subsequently, they themselves made a design for a palazzo with a combined working and dwelling brief. This design was also presented with clear black-and-white drawings and coloured details. During the scheme development images and materials were immediately included in the design. Together, the students proposed a coherent piece of Rome. The reality of production and construction was essential to that.
Download pdf booklet here.
The tutors of the studio were:
Hans van der Heijden