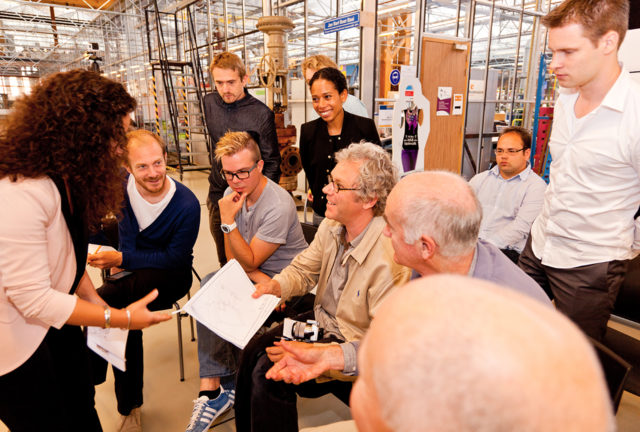 9 September 2020 – I was rather taken to be nominated as Architect of the Year 2020. Below you can read why. British/American Karin Templin  sent a letter of recommendation on behalf of 25 fellow professors and architects. The jury of the title Architect of the Year 2020 could not ingnore it, because here you can vote.
Dear members of the jury,
On behalf of a contingency of international colleagues of Hans van der Heijden, I would like to take this opportunity to nominate Hans for the Architectenweb Architecture of the Year 2020 title. As a group we feel that Hans' career as a practitioner, teacher, writer, and researcher, not only in the Netherlands but throughout Europe, exemplifies the role of the architect today. In addition, acting as a kind of informal ambassador, Hans has contributed greatly to our understanding and appreciation of Dutch architecture and urbanism here in the UK and elsewhere.
I have had the pleasure of teaching and collaborating with Hans since I met him in 2013 when I was teaching design at the University of Cambridge and he was the Sir Arthur Marshall Visiting Professor of Sustainable Urban Design. Since then, I have had the opportunity to teach, lecture, and collaborate with Hans in the UK, the Netherlands, Switzerland, and Liechtenstein, where he continues to promote the study of existing housing types such as the college, the mansion block, and the urban palazzo and their contemporary application.
It is this contemporary application for which Hans is particularly respected. He is well known for his ability to combine established local housing typology with modern construction methods and innovation as the recent completion of his duplex housing scheme at Persoonshaven in Rotterdam demonstrates. His residential projects are often held up as exemplar projects and we feel there is much for us to learn from his work.
Hans has contributed greatly to the discourse on the role of housing in the design of cities and is seen as a leading figure in the practice of housing design and the study of housing typology, particularly in the UK where he is a frequent lecturer and collaborator with British and other international practices, as well as the Honorary Visiting Professor in Contemporary Architectural Practice at the University of Liverpool. Despite not being able to read the many texts, books, and monthly columns that Hans has written in his native Dutch, many of us do follow them and have conversations with him about them. Hans has been greatly influential in the discourse of urban housing in the UK and the rest of Europe, where he is often the instigator of the conversation as well as a participant.
Therefore, we hope that you strongly consider our nomination of Hans van der Heijden for the Architectenweb Architect of the Year  2020 title.
Best regards,
Karin Templin
On behalf of:
Prof. Stephen Bates (Sergison Bates Architects London, Technische Universität München)
Prof. Soumyen Bandyopadhyay (Head of School Liverpool School of Architecture)
Alfredo Caraballo (Allies and Morrison Architects London)
Prof. Adam Caruso (Caruso St. John Architects London, ETH Zürich)
Rosamund Diamond (Independent critic, Diamond Architects London, Nottingham University)
Prof. Antje Freiesleben (Modersohn & Freiesleben Architekten Berlin, Universität Siegen)
Prof. Sean Griffiths (Modern Architect, University of Westminster London)
Prof. Andreas Hild (Hild und K Architekten München, Technische Universität München)
Lukas Imhof (Lukas Imhof Architekten Zürich, Hochschule Luzern)
Prof.dr. Paul Kahlfeldt (Kahlfeldt Architekten Berlin, Technische Universität Dortmund)
Prof.dr. Vittorio Magnago Lampugnani (Studio di Architettura Milano, ETH Zürich)
Prof. Julian Lewis (East Architects London, Nottingham University)
William Mann (Witherford Watson Mann Architects London)
Prof. Johannes Modersohn (Modersohn & Freiesleben Architekten Berlin, Universität Kaiserslautern)
Prof. Nicholas Ray (NRAP Architects Cambridge, Cambridge University, Liverpool School of Architecture)
Dr. Torsten Schmiedeknecht (Liverpool School of Architecture)
Prof. Uwe Schröder (Uwe Schröder Architekten Bonn, Universität Aachen)
Timothy Smith (Smith and Taylor Architects London, Kingston University)
Prof. Peter St. John (Caruso St. John Architects London, London Metropolitan University)
Prof. Stephen Taylor (Stephen Taylor Architects London, Nottingham University)
Jonathan Taylor (Smith and Taylor Architects London, Kingston University)
Karin Templin (Independent critic, Studio ACKT London, PhD candidate Cambridge University)
Ellis Woodman (Independent critic, director Architecture Foundation London)