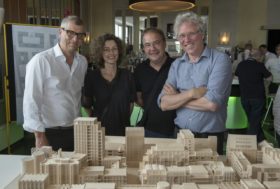 11 July 2016 – I am going to build in Berlin. Together with 30 other architects I was invited by the Berliner Werkbund to contribute to a new model housing estate. After the famous example of the 1927 Weißenhofsiedlung a new urban quarter with 1000 dwellings will be built in  Charlottenburg. Different from the well-known precedent attention to building in the inner city, ecology and the art of construction will be pivotal. These teams include the offices of Petra and Paul Kahlfeldt, Max Dudler, Hild+K, Hans Kollhoff, Caruso St John and Jessen Vollenweider and the Dutch practices Office Winhov and Rapp+Rapp.
Last weekend all architects presented three designs for different sites on a conference in Amsterdam. Every architect will build one of their designs. In my case that will be Haus 1, the eight storey block announcing corner of the estate at Quedlinburgerstraße.
It is stimulating to collaborate with all these highly esteemed colleagues. I very much enjoy their attention to the tradition of dwelling and building. Yet, I can't help but notice that we Dutchmen take a pragmatic stance and that we are perhaps looking slightly less doggedly at that tradition.
The masterplan will be submitted on the basis of the scheme designs by 2017. Start on site is expected for 2018.
Download design statement [English/ German/ Dutch]