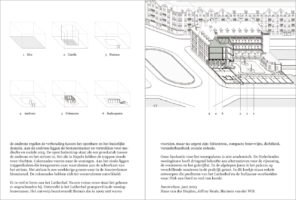 11 July 2023 – The Lutherhof in Amsterdam, a forgotten masterpiece. Dutch housing construction celebrated two types: the row house and the residential tower – not to mention their intersection: the gallery flat. The row house was the carrier of the Vinex program, in which the residential tower and the urban villa provided variety. The Bijlmermeer would forever cast the gallery flat in a bad light.
What would have happened if not the modernist Kiefhoek and the Bergpolderflat, but the Lutherhof had dominated the canon of Dutch housing construction?
The 1909 Lutherhof for single women never made it into that canon. Its architect, Dirk van Oord, has remained unknown. Van Oord must have studied the Italian residential palazzo closely. The palazzo evolved after the Renaissance from the house of the urban elite to the everyday residential building. Without Naples going up in height, that city achieved high density. Within the 18th century speculative city of Naples, the palazzo establishes its sustainable typological element.
There is much to learn from the Lutherhof. After a century, the building stands intact. Unjustly, the court has been ignored in the housing canon. The design answers themes that were not foreseen in 1909 but are now urgent: heat stress, compact construction, density, changeability, social cohesion. We made a booklet about our fascination for the residential palazzo. Because that interest is not academic: Dutch residential design urgently needs alternatives to the terraced house, the residential tower and the gallery flat. In recent years, we have field-tested the palazzo in various ways. This booklet features some of our designs that benefit from the Lutherhof and the Italian examples from which Dirk van Oord learned so much.