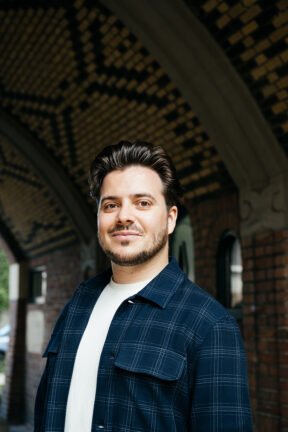 Jeffrey Reule
Jeffrey (Delft, 1992) studied Architecture Technology at the University of applied sciences in The Hague and Architecture at the Rotterdam Academy of Architecture.
Jeffrey graduated with an urban design for the inner city of Rotterdam. The urban interior with all its transitions of spaces is a recurring theme in his work. He prefers to work at the interface of urban planning, architecture, and interior design. Whether it is an interior of a town hall, a couple's home or an urban development plan for a new residential area, Jeffrey transfers his pleasure, skill and enthusiasm in design to the people he works with.
Jeffrey worked at Mecanoo, Jeanne Dekkers Architecture and helgasnelarchitecten, where the pleasure of building grew. He gained experience in new and existing construction of schools, housing, offices, and government institutions.
With HvdHA, Jeffrey aims to work on solid timeless residential and non-residential buildings that are affordable and built in a sustainable way. Solid buildings that stand naturally in their place and are made their own by their occupants and users, perpetuating the tradition of architecture. Currently, Jeffrey is working on a project with 155 homes with parking facilities in Utrecht Terwijde.
Photo: Jan Bijl, Rotterdam