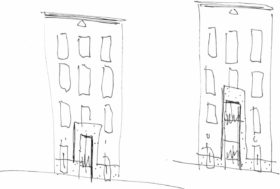 21 December 2015 – Last Wednesday the Rotterdam Architecture Price 2015 was awarded. My 'houses with two doors' at Oranjeboomstraat were nominated for the price which this year was focussed on the theme of housing. As an important public building for the city of Rotterdam the Markthal received the price. The people of my client Woonstad told me that the residents have thought of a new name for their dwellings in Rotterdam Feijenoord. For new Rotterdammers their dwellings have become 'houses with two souls'. Apparently they take ownership of the project quite rapidly.
Early Thursday morning I flew to London for crit duty at the teaching studio of my friend Stephen Taylor who had worked with his students at collective housing in London Hampstead. Stephen strongly advocated to take the 'Hampsteadness' of the study site as point of reference. One month before Stephen and his students had made a study trip to the Netherlands where they visited the Amsterdam School housing and the 'houses with two souls'. Stephen smiled complacently when he heard who had won the price, but congratulated me amiably with the success that the residents ascribed to the project.
The city of Rotterdam needs the Markthal. Simultaneously, the provision of comfortable dwelling is important. The chairman of the jury Don Murphy was 'blown away' by the qualities he found at Oranjeboomstraat. I am proud to have contributed to that and that this comfort is valued by the jury of the Rotterdam Architecture Price, my clients at Woonstad and colleagues in London. Most satisfaction is provided by the appreciation of the 'houses with two souls' by the people who actually live there on a day by day basis.
Video nominations RAP15 [Dutch only]