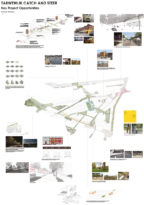 Catch and Steer
Investigation urban design methods London & design research Rotterdam Tarwewijk
Commission: Stimuleringsfonds Creatieve Industrie, Rotterdam
Co-architect & referent: Julian Lewis (East), Londen, UK
With: Marco Pastors (NPRZ), Mirjam Oosterhout (Woonstad), Marco Hoogenbrugge (Rotterdam City Council) & Patrick van der Klooster (AIR Foundation)
2012 – 2014
HvdH investigated contemporary urban design methos as developed by Mark Brearley and the architect's practice East in London which may be characterised as Catch and Steer. Such urbanism may be understood as a two-fold activity: catching multiple desires and investment flows and steering them in such a way that they support and amplify each other. British pioneers, practices such as East, grounded this method in pragmatism, realism and locality versus rather than on idealism and form-making. They argue against the idea that within the apparent parallelizing non-plan situation of the city no urban interventions of any meaning can happen anymore.
Projects of this kind are very much process driven, lacking clear signature. In most cases an abundance of imagery is found rather than a reduced iconography. A design for the Tarwewijk district in Rotterdam, undertaken by HvdH together with Julian Lewis of East, investigated the relevance in Dutch conditions.
The research project was financially supported by the Creative Industry Fund NL.