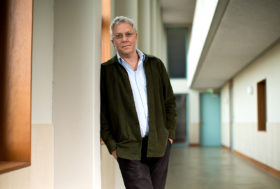 31 August 2020 – Blown away … great news.
There is appreciation for my housing desging work and that feels well. I am going back in time 40 years.
From the moment I decided to go to TH Delft as an 18-year-old, later when I worked at Mecanoo and subsequently as an independent architect in Rotterdam and Amsterdam, housing construction has kept me in its grip.
For as long as I that, have been thinking about practical, high-quality homes that are affordable and built for eternity. As editor of the architecture yearbook, I saw with regret the disastrous effects that the 2013 rents levy had on the quality of housing construction. Not only in the social segment by the way.
I did not resign myself to the harsh reality. I wrote, I taught, I discussed, I designed, and I built.
And now look. Fellow architects and professors from Europe nominated me as Architect of the Year 2020.
That is a generous gesture. I take the opportunity to highlight the importance of good affordable housing.
Will you help me make this case? Then give me your vote for Architect of the Year 2020.
Link to video interview Architectenweb
Foto: Maarten van der Haaff