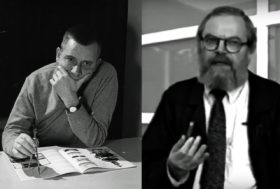 2 October 2019 – Today I received the news that my column Analogen, is nominated for the Geert Bekaert Award. Analogen is an edited version of one of the monthly columns I have written for Architectenweb. The award for architectural criticism has been established by Archined to celebrate design criticism and to stimulate the art of writing on design. For the 2019 edition Archined called for texts touching upon the theme World View. There were 34 submissions.
The judges were Prof. Wim van den Bergh (architect in Maastricht, RWTH Aachen), Prof. Lara Schrijver (University of Antwerp) and Prof. Paul Vermeulen (architect De Smet Vermeulen in Genk, TU Delft).
The winners of the Pruys Award for Design Criticism and of the Bekaert Award for Architecture Criticism will be announced on Saturday evening 16th November 2019. During the evening of the award ceremony, the nominees will read their text. After the presentations, the juries will select the winning text. The winners win prestige, honour and fame as well as a beautiful trophy. The audience will decide on a Public Prize.
Besides Analogen the jury nominated: Ania Molenda – In Defense of Diversity and Violette Schönberger – Paradijs van imperfectie.
Click here for English version of Analogen.