2½ D
Free work
2½ D is a graphic interpretation of the facades which have been generated within the architectural practice. Constancy is the concise, almost flat, representation of the house- or maybe better: the simplified image in which an architectural artefact is stored in the brain.
2½ D was set up as a series in which facades were rendered in the same scale. The facades were strongly reduced in their appearance. There is no information given about any materials, design application or details which may derive attention from the diagrammatic, compositional idea of the house. Façade and roof planes, ornaments and railings are consequently shown in the same shades of grey. There is a mere illusion of spatiality in these images. They are 2½ dimensional.
The images were made digitally and printed on aluminium paper.
Pieces of the 2½ D series were on show in the opening exhibition Now Then of the renewed Bluecoat Arts Centre in Liverpool, 2008, and in the group exhibition Pasticcio at the Architecture Biennale in Venice, Architekturgalerie in Munich and VAi in Antwerp, 2012-2014.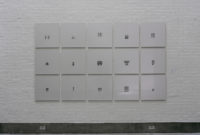 Now Then