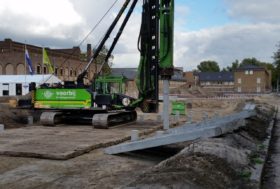 8 October 2015 – Alderman Joris Wijsmuller led the ground breaking ceremony of the second phase of my Kloosterbuuren project by drilling the 'first pile' of the project for the second time. It turned out to be an informative, sunny autumn afternoon. The alderman told the assembled future owners of the houses that they had bought a much nicer house than he lived in in the centre of the Hague.
Director Job van Someren of ERA Contour was proud to announce that all dwelling were already sold and he did not hesitate to underline that this had everything to do with the architecture of the first phase. The restoration of the church and monasteries are currently investigated by ERA Contour, HaagWonen and the the Hague City Council.
Enthusiastic future owners approached me to explain why they had opted for a three storey high house at the church square. Finally, they were able to build their photo studio in their own house for a manageable price. From their house they will have free views on a the church square and two alleys within the ensemble. They were lucky, because many other people were interested to buy this house. Especially this last story demonstrates that the current housing market does not require middle-of-the-road products, but is best served with differentiation and a good price.