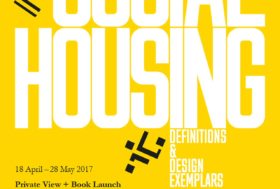 29 March 2017 – The renovation project for the splayed apartment blocks in Rotterdam Ommoord features in a new reference book on social housing design published by the Royal Institute of British Architects (RIBA).
Bringing together 24 exemplar case studies and featuring a range of interviews and testimonies, Social Housing: Definitions and Design Exemplars explores the best new housing at a pivotal time for the sector. Considering shifting definitions of tenure and featuring a variety of house types and emerging themes, the projects together offer a challenge to housing professionals to rethink how we build and highlight the vital role of housing in the life of our cities.
The editor, Paul Karakusevic, invited me to contribute to a conference at the RIBA in London on 16 May.