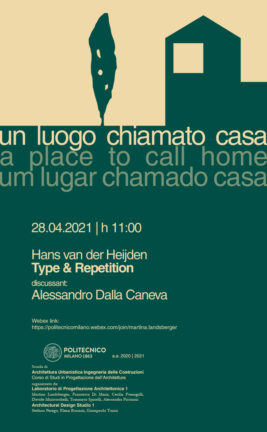 26 April 2021 – Upon invitation of the Politecnico Milano I will be presenting an online paper entitled 'Typology & Repetition'. Afterwards there is a conversation with Alessandro Dalla Caneva from Padua University. My presentation is part of the international lecture series 'A Place to Call Home'.
Previously, Martina Landsberger's studio in Milan studied the houses on Persoonshaven. It is remarkable, by the way, that this university has not succumbed to Anglo-Saxon newspeak and is still called a polytechnic.
Admission to the lecture is free through this link.