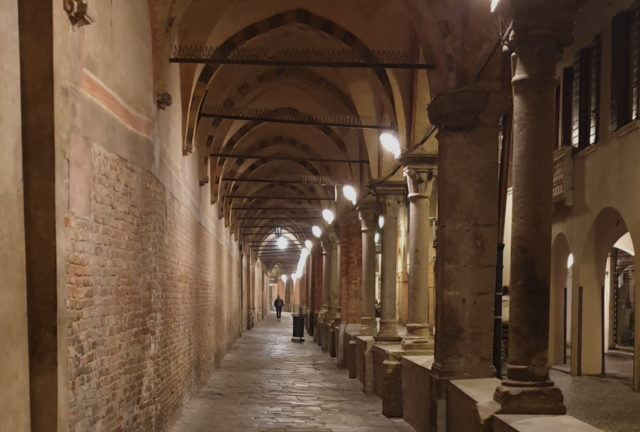 9 October 2020 – The other week, 11 o'clock in the night, Padua, a brick gallery at Via S. Francesco. A firm hand grabs my shoulder: "Now watch carefully, boy."
A holdup?
Almost. I imagined the famous Aldo Rossi speaking to me.
I was in Padua talking with 30 colleagues about urban renewal. It was disappointing to witness yet again how some colleagues overestimated the position of architecture. Entire parts of the city were dismissed as Intermediate Cityies'without quality'. It was encouraging to see how much more thoroughly others worked.
Back to the evening before. The gallery has doors to the S. Francesco church and its convent, hospital, and cloister. The brick vaults have lasted for already eight centuries. In Padua they provide shelter from sun and rain. They form the backdrop for church attendance, visiting the sick and hurried pedestrian traffic. This kind of buildings could then be built with the left hand.
Rossi was keen on Padua – and the proven simplicity in that city. At home I continue to work on the palazzo typology of a new assignment.