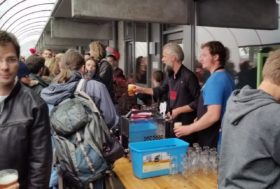 21 January 2016 – By coincidence I was present at a special [and perhaps even historic] event in the autumn of last year. There was a party at the Kleiburgflat in Amsterdam Bijlmermeer. On the occasion of the founding of the so-called Kleiburg Monastery, the monks served their house-brewed beer. The celebration took place at the wide decks running at the second floor of this long concrete housing block, the once cursed and failed walkway towards the daredevil parking houses. Precisely this place was crowded. Seven apartments at this wide gallery are now occupied by the monastery. The balconies at the rear are connected. One of the seven apartments contains a kitchen, a community room and a chapel and has a second entrance at ground level. There are plans for a monastic garden near the building.
Less coincidentally, I visited the Kleiburgflat again with my colleague-editors of the Dutch Architecture Yearbook. Architect Kamiel Klaasse talked emphatically about his refurbishment plan. He demonstrated easily how the architecture of these enormous buildings was conceived up to the minor details. The rough concrete parapets are supplied with a refined timber hand railing which is kilometres long. The concrete frames a small glass panel. Architect Jan van Grunsven showed the fitting out of his own house. Like the monks, he is realising his unique, personalized living quarters.
Now, what is the secret of this new success in Bijlmermeer? Of course, it has everything to do with the depreciation of this social housing housing estate by its owner. The project developer bought the Kleiburgflat for € 1 and has only renovated the structure and facades. The owners of the apartments took care of the remaining investments necessary to make the edifice liveable, either by their own labour, time or money. But that is not the whole answer if I take into account the experiences with the Splayed Apartment Blocks in Ommoord, Tuindorp Kethel in Schiedam and even the Europan plans for Liverpool.
Invited by Arcam and chaired by Tom Avermaete, I will continue the conversation about what happened at the Kleiburgflat with Kamiel Klaasse and Jan van Grunsven: 4 February, Academie van Bouwkunst, Amsterdam.