11 July 2022 – The former 'Aldo Rossi Faculty' at Università di Bologna appoints a visiting professor every year. Aldo Rossi's legacy has been propagated in the past by architects Hans Kollhoff, Uwe Schröder and Max Dudler, among others.
This year it was my turn. Alternating between online and on-site, I explored Florence's 19th century city ring together with my students. The city is not known for this, but it is a masterpiece. Moreover, the ring designed by Giuseppe Poggi saved the city centre.
I was welcomed at the school. The students work hard. They are eager to learn. The Aldo Rossi school prepares students for practice, one that is historically anchored that is.
That shows. There is no airy-fairy in the designs. What is present though, is the will to make understandable buildings that fit into a common urban culture. Their exam went off without a hitch. In the evening was my farewell party, which went on for a long time. All of us an experience richer.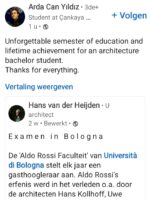 And more academic news soon.