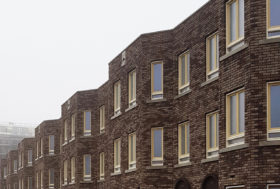 15 January 2018 – The scaffoldings on the construction site of Churchillpark in Leiden
are being taken down. Now it shows how beautiful the repeating windows are and how the mixed brown bricks relate to the cream coloured window timberwork, the yellow windows and the concrete gargoyles. The colour palette reminds one of certain projects of H.P. Berlage.
Handover of the first dwellings are expected to for February. All dwellings are rented out already.